Pool options
Pools, Patios Ponds are the top suppliers of all kinds of outdoor features in the Painesville and surrounding areas. We have been providing expert landscaping and associated services to hundreds of satisfied customers even in areas like Eastlake, Willowick and Mentor and the one reason why our customer base keeps increasing is because we provide an amazing range of landscaping and pool options.
The Range of Options
Pools are now becoming an integral part of landscaping projects and our pool options provide every home with a unique look enhances the swimming experience for you and adds value to your home. Take a look at all the specialized solutions we provide you: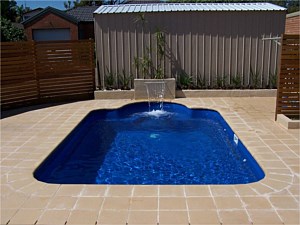 Courtyard Roman- The Courtyard Roman design is a very classic one and this kind of pool becomes the perfect centerpiece for a very stunning and alluring courtyard setting. It is the perfect solution for a small space and we add a number of custom features like in-built ledges that increase safety and optimize the use of the available space.


Elegance- This is a very popular style of pool today and its crisp and clean design is what endears to homeowners who are looking for simple pool options.


Grande- The contemporary lines of this classic style, rectangular footprint pool is truly impressive. This pool is large in size and has a full-length bench seat as well as very generous entry steps. If you have the available space and want a large pool, this is the one you should be opting for.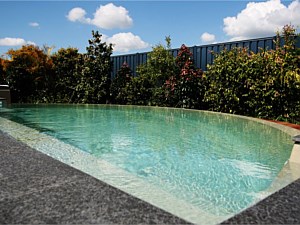 Horizon- Also called infinity pools, these are elaborate in structure, engineering and design. They are perfect for a graded landscape but will look just as good in any kind of setting. The overflow effect they have provides a very alluring look to the landscaping.


Mediterranean- These are famed for their Roman or Greek shapes. We can add stone decking as well as colorful ceramic tiles for a unique accent. We can also add waterfalls as required.


Moroccan- This is a very simple and basic rectangular pool that is functional and beautiful. We can add multiple entry points to the pool as required.


Palladium Plunge- An excellent choice of pool option for smaller landscapes, it provides a very stunning visual effect. Waterfalls can be added to this pool as well.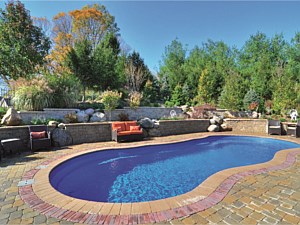 Riviera- This curved free-form pool is available in various sizes and we can add a family-style bench which makes it perfect for you to relax and children to play on.


Roman- Conventionally, this rectangular pool has curved edges and is a very simple design that makes use of the available space very optimally. We can also build ones with square corners if you like.


In addition to all the pool options that we have just talked about, Pools Patios Ponds can also provide you with Sorrento Spas and Tanning Ledges or Tuscany-style kidney shaped pools. Our expertise in pool options and landscaping is unsurpassed in the region. Contact us today at 1270 Mentor Avenue Painesville Twp, OH 44077.
We Provide Services to the Following Cities and Towns in OH:
Austinburg, OH
Chardon, OH
Chesterland, OH
Concord, OH
Eastlake, OH
Edgewood, OH
Euclid, OH
Fairport Harbor, OH
Grand River, OH
Hambden, OH
Jefferson, OH
Kirtland, OH
Kirtland Hills, OH
Lakeline, OH
LeRoy Township, OH
Madison, OH
Madison Township, OH
Mentor on lake, OH
Middlefield, OH
Newbury, OH
Perry, OH
Perry Township, OH
Timberlake, OH
Waite Hill, OH
Wickliffe, OH
Willoughby, OH
Willoughby Hills, OH
Willowick, OH