Outdoor lighting
Homeowners focus a lot on designing their landscapes in a very aesthetic manner and pick the best plants and trees and hardscape features. But the outdoor lighting factor gets sidelined. The fact of the matter is that lighting the exterior spaces of your property adds functional and aesthetic benefits to it. Pools Patios Ponds has been creating the most alluring landscapes for customers across Painesville and the surrounding areas including Mentor, Eastlake and Willowick.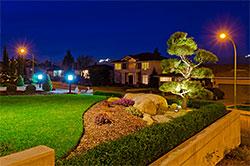 The Advantages
The outdoor lighting that we install can include wall-mounted as well as ground-mounted lighting and paver lights of all kinds. A number of customers also request that solar powered lighting be installed and these operate on solar cells which are inbuilt in them.
They do not require any kind of wiring and also have LED bulbs which offer 80% efficiency in comparison to standard incandescent lights. Since lighting is not only for adding an attractive look to your garden/yard, it is important to understand what advantages it offers you. This will help you pick the right kind of lighting for all the outdoor spaces on your property.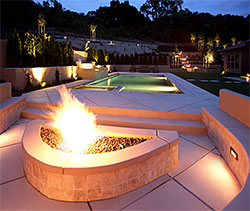 Appearance- This is a very obvious advantage to any kind of outdoor lighting. It adds a great deal of drama to the space and can be used to enhance the architectural elements of your home and its landscape. We create very effective focal points in your garden by lighting up some specific features or plants which will lend a distinct curb appeal to your property


Functionality- Outdoor lighting increases the functionality of these open spaces and you will be able to use these areas long after sunset. Flood lighting can add enough general light for yards and patios while mood lighting can be created by adding semi-enclosed lights to posts and beams that might exist on patios and other outdoor living areas.


Home Security- A well-lit exterior dissuades burglars and vandals from encroaching on your property and it becomes less of a target for all kinds of crimes. The right kind of lighting leaves less hiding spots. Thus we also focus a lot on outdoor lighting from the standpoint of security.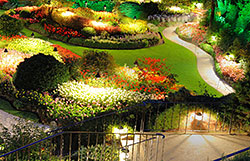 Personal Safety- Most landscapes have stairs, pavers, decks and pools. In the nighttime, all of these can prove to be safety hazards. Having well-lit yards increases the safety quotient for your family as well as for guests who might visit your home. Well-designed outdoor lighting solutions can prevent trips and falls and increases the safety of your home.


You need look no further than Pools, Patios Ponds for all your landscape lighting needs. Once we have surveyed your property and understood what your exact requirement is, we will provide you with solutions that fit right into your budget. If you are not sure about what you want, simply fill out the form on our website and tell us what your specific requirement is. We will revert and help you access all your lighting needs. We assure you, that with our outdoor lighting solutions in place; your home will be the safe and aesthetically appealing.
We Provide Services to the Following Cities and Towns in OH:
Austinburg, OH
Chardon, OH
Chesterland, OH
Concord, OH
Eastlake, OH
Edgewood, OH
Euclid, OH
Fairport Harbor, OH
Grand River, OH
Hambden, OH
Jefferson, OH
Kirtland, OH
Kirtland Hills, OH
Lakeline, OH
LeRoy Township, OH
Madison, OH
Madison Township, OH
Mentor on lake, OH
Middlefield, OH
Newbury, OH
Perry, OH
Perry Township, OH
Timberlake, OH
Waite Hill, OH
Wickliffe, OH
Willoughby, OH
Willoughby Hills, OH
Willowick, OH