Outdoor kitchens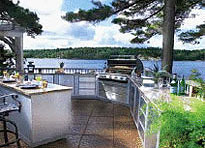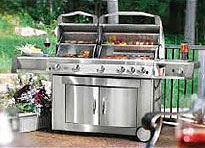 Installing outdoor kitchens is a great way of making use of all that outdoor space that is attached to your home. It increases the livable area on your property and creates a zone that you can relax and entertain in. Pools, Patios Ponds has been designing and building the most alluring outdoor living spaces in homes across Painesville and we have hundreds of outdoor kitchens projects to our credit in the surrounding areas of Mentor, Eastlake and Willowick too. There are a number of design factors we focus on but we also prioritize functionality.
The Kind of Designs you Like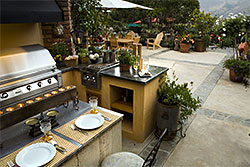 Since this is going to be a place where cooking and entertaining will take place, it has to be planned and designed with great attention to detail. The kitchen area can be as elaborate or simple as you want it to be. If you prefer that the project be carried out in phases, we can do that for you too. Apart from the design and the ambience, we also understand what kind of equipment you want in your outdoor kitchens.
Nowadays, there is a variety of outdoor kitchen equipment that you can choose from. There are grills and BBQ's as well as refrigerators and bars. We can add counters as you like and create cabinet space for stocking all the kitchen essentials. When you cook outdoors, you also want to have convenience when it comes to quick accessibility of equipment, implements and kitchen essentials.
Benefits of Outdoor Kitchens
Most outdoor kitchens also have seating areas attached to them. These may be an extension of the kitchen space or segregated by a half-height wall. We design structures that will complement your home and also create a space that will blend in beautifully with the surrounding landscape.
We keep all these factors in mind and also make sure that only the best materials and used. All our installation personnel are highly-skilled and experienced and every project will be carried out in the least possible time and to the highest quality standards. Well planned outdoor kitchens offer some distinct benefits like: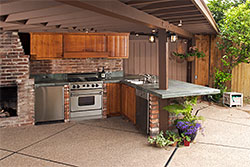 Optimizing Space- Creating an outdoor kitchen helps in optimizing the available space on your property and it becomes a perfect spot for entertaining guests.


Easy Maintenance- BBQ's and grilling are fun but this kind of cooking also tends to get a little messy with all the smoke and food smells. When you have an outdoor kitchen, the smoke and fumes do not get into the house and cleaning and maintenance are easier as well.


Reduces Utility Bills- The more you use your outdoor kitchen, lower will be your utility bills. The heat that emanates from ovens and grills in an indoor kitchen tend to increase electricity costs. Cooking outdoors solves all these issues and brings down your utility bills.


Pools, Patios Ponds can install the most unique outdoor kitchens for you with materials of your choice. Contact us via the form on our website or at our offices at 1270 Mentor Avenue Painesville Twp, OH 44077.
We Provide Services to the Following Cities and Towns in OH:
Austinburg, OH
Chardon, OH
Chesterland, OH
Concord, OH
Eastlake, OH
Edgewood, OH
Euclid, OH
Fairport Harbor, OH
Grand River, OH
Hambden, OH
Jefferson, OH
Kirtland, OH
Kirtland Hills, OH
Lakeline, OH
LeRoy Township, OH
Madison, OH
Madison Township, OH
Mentor on lake, OH
Middlefield, OH
Newbury, OH
Perry, OH
Perry Township, OH
Timberlake, OH
Waite Hill, OH
Wickliffe, OH
Willoughby, OH
Willoughby Hills, OH
Willowick, OH