Brick patios










Patios and outdoor living features add functionality and beauty to your home. They extend the interior spaces and create an ambiance of openness and airiness. Patios can be of different styles and can be made with different materials too. Some may be completely enclosed, while others semi-enclosed and Pools Patios Ponds can create customized designs for you.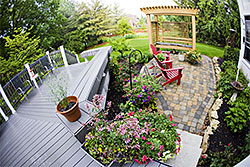 The Benefits of Brick Patios
Of all the materials that can be used in their construction, brick patios are the most versatile and long lasting. We specialize in the designing and installation of brick patios and if you are planning on having one installed in your home in and around Painesville, ours is the company you need to contact. So what exactly is it that gives brick an edge over other materials?
Appearance- This is probably one of the main benefits of having brick patios. They are classic and timeless in their appearance. They can blend well with traditional as well as contemporary architectural styles and look amazing with farmhouse, colonial, Craftsman and Spanish style homes too.
Brick looks inviting and warm and is a perfect material for an outdoor entertaining space. Though bricks are typically red in color, you can also choose from gray, pink or multicolored ones for a very unique look. Weathered style bricks offer a rustic look.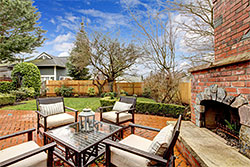 Design Versatility- Brick patios provide you with a great deal of design versatility. We can build rectangular, circular, square or curved patios, based on your specific needs. You can also choose whether you want a running bond, herringbone or basket- weave pattern depending on whether you want a traditional, formal or free-form look.


Durability- This material is extremely durable. It can withstand the wear & tear of high traffic and is strong enough to bear the weight of all your outdoor accessories and furniture.


Easy to Repair- Though it does not get damaged easily, in case some does occur, it can be repaired very easily. Since brick patios can be dry laid, in case a brick or two get damaged, we can easily replace them without too much of a hassle. Since bricks do not fade like many other types of paving materials there is no worry about a mismatch in coloring.


Cost- Brick is a very affordable material. It is much less expensive than stone and installation is easy and fast too. This reduces the overall cost of the brick patio project.


Unique Designs
Many of our customers across the areas of Mentor, Eastlake, and Willowick have opted for brick patios and our customized designs ensure that every one of them looks unique and distinctive. We work very closely with you on all the designing details, use the best materials and highly-experienced installers carry out the job to perfection.
With years of experience in this space, Pools Patios Ponds has successfully completed hundreds of landscaping and brick patios installation projects. Visit our offices at 1270 Mentor Avenue Painesville Twp., OH 44077 and speak with our knowledgeable representatives today.
Brick Patios Vs Concrete Patios- How They Stand Up Against Each Other
When a Brick Patios Vs Concrete Patios debate ensues, there is discussion about their pros and cons. Both look good and are long-lasting as long as they are installed appropriately. Thus choosing the right material can be a challenge for many homeowners in Willowick, Eastlake and Mentor. Let's take a look at what these pros and cons are; this will help you make the right choice based on your specific need.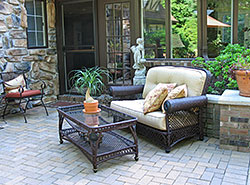 Advantages of Brick Pavers
The installation is less complex in comparison to stamped concrete installation. Very little equipment is required and dry-laying makes the job easy and quick.
Pools Patios Ponds takes a lot of care while installing brick patios for our customers in and around Painesville. Once they have been installed, they require minimal maintenance. Simply sealing the pavers and regular washing keeps them in a good condition. This lowers the overall cost of this material
Brick patios have a very unique look which they retain for a number of years
In case a damaged brick has to be replaced, you do not have to worry about a mismatch, as brick does not fade and the new pieces will not be an eyesore
Disadvantages of Brick Pavers
There is a limited color range. Though you do not have to be stuck to the standard brick color and can choose from pink, gray and red, the color choice is limited in comparison to concrete which is available in a wide range of colors
Bricks can withstand a certain amount of traffic, but might crack with extremely heavy movement. This means you might have to occasionally replace those damaged bricks as and when necessary.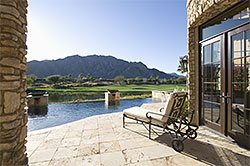 Advantages of Stamped Concrete
Numerous stamp patterns and colors are available and you can choose from stone, slate and flagstone textures. Concrete mimics these natural materials for a fraction of the cost
Since stamped concrete is sealed, it is protected from all the elements
Disadvantages of Stamped Concrete
Concrete tends to crack in extreme weather and repairs can be expensive
Control joints have to be placed at the time of installation and the process is a time consuming and expensive one in comparison to brick paver installation
There can be a color variation in the installation. In case of any damage, the color of the new concrete might not match with the existing one.
Sealer reapplication is required every 2-3 years
Moss gathers very easily on stamped concrete which makes the surface very slippery
Thus, it is very clear that both these materials have certain advantages and disadvantages. We handle patio installation of all kinds, but on the whole brick patios tend to have more pros than cons and we can provide you with the best materials and installation. For more information about brick patio installation, you can contact Pools Patios Ponds' offices at 1270 Mentor Avenue Painesville Twp., OH 44077 or via the form on our website and we will call you.
We Provide Services to the Following Cities and Towns in OH:
Austinburg, OH
Chardon, OH
Chesterland, OH
Concord, OH
Eastlake, OH
Edgewood, OH
Euclid, OH
Fairport Harbor, OH
Grand River, OH
Hambden, OH
Jefferson, OH
Kirtland, OH
Kirtland Hills, OH
Lakeline, OH
LeRoy Township, OH
Madison, OH
Madison Township, OH
Mentor on lake, OH
Middlefield, OH
Newbury, OH
Perry, OH
Perry Township, OH
Timberlake, OH
Waite Hill, OH
Wickliffe, OH
Willoughby, OH
Willoughby Hills, OH
Willowick, OH